Stay bless Sam
ABOUT MY SELF
(*_*)HELLO(*_*)
MY NAME IS SAMEER AND IM COMPLETE MY STUDY& I BELONG TO AFGHANISTAN BUT I AM (living)IN PAKISTAN ITS MEAN MY BIRTH PLACE IS PAKISTAN
(*_*)THANKS(*_*)
(*_*)
MY HOBBIES
MY HOBBIES ARE'S


MUSIC


CHATING


SWIMING


FOOT BALL


GYM


READING NOVELS


LOVE & ROMANTIC POEMS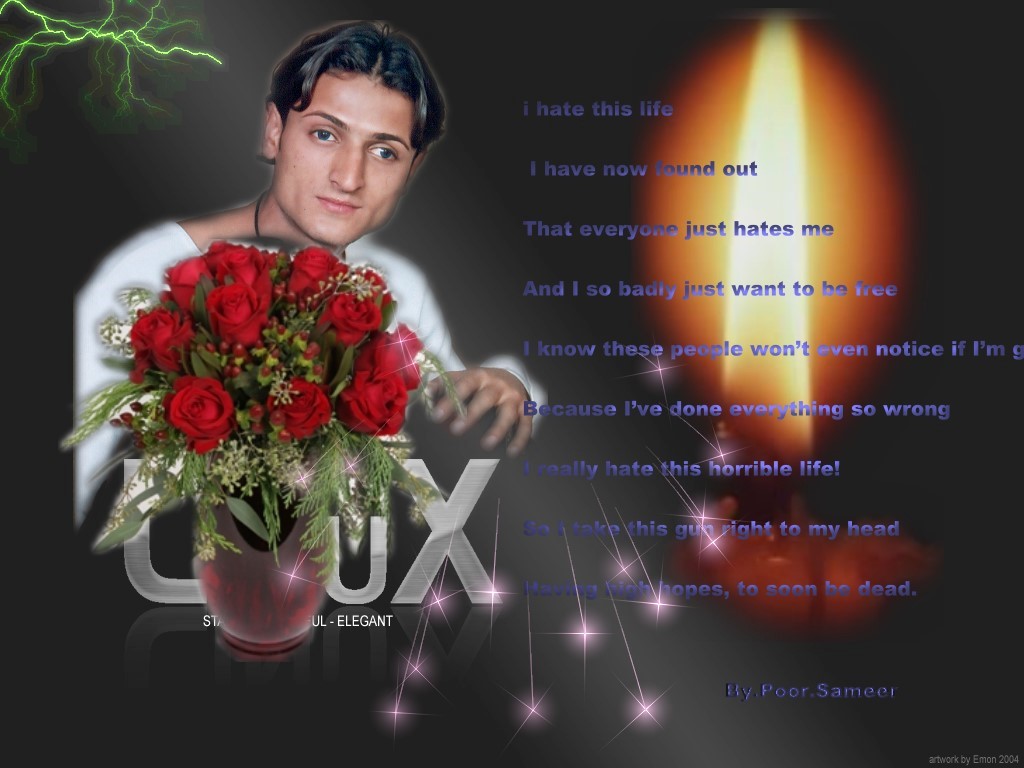 WHAT CAN I DO IN FUTURE
FIRST OF ALL AFTER MY COMPLETING STUDY I WANT TO SUPORT MY FAMILY AND ALL MY BEST FRIEND AND ALL MY FAMILY MEMBERS......
AND I WANTO TO DO SOME THING GRAT AND BATTER MY COUNTRY AND MY NATION ..................
Times Of Sorrow.
Good things come
through times of sorrow.
Love is shared.
Bonds are strengthened.
Commitment is renewed.
Faith is restored.



Have faith that
you're strong,
and that you'll get through
this rough time.
Better days are ahead
Grieve_poet@hotmail.com
Real love...


As long as you love me,
I can do anything;
no dream is impossible,
no star is too distant to reach.
I fly from the joy you bring.
You're my first love,
and my true love.
Until I met you,
I never knew love.
I've been sent my own
piece of heaven from above,
wrapped in the wings of something
divine and pure and fine.
If I could capture all the stars,
I'd send them to you,
but this card will have to do,
until I can prove
my unending affection for you.
I hope you know how much
I need you here with me,
and how much you always move
and inspire me.
You're everything that love is
supposed to be.